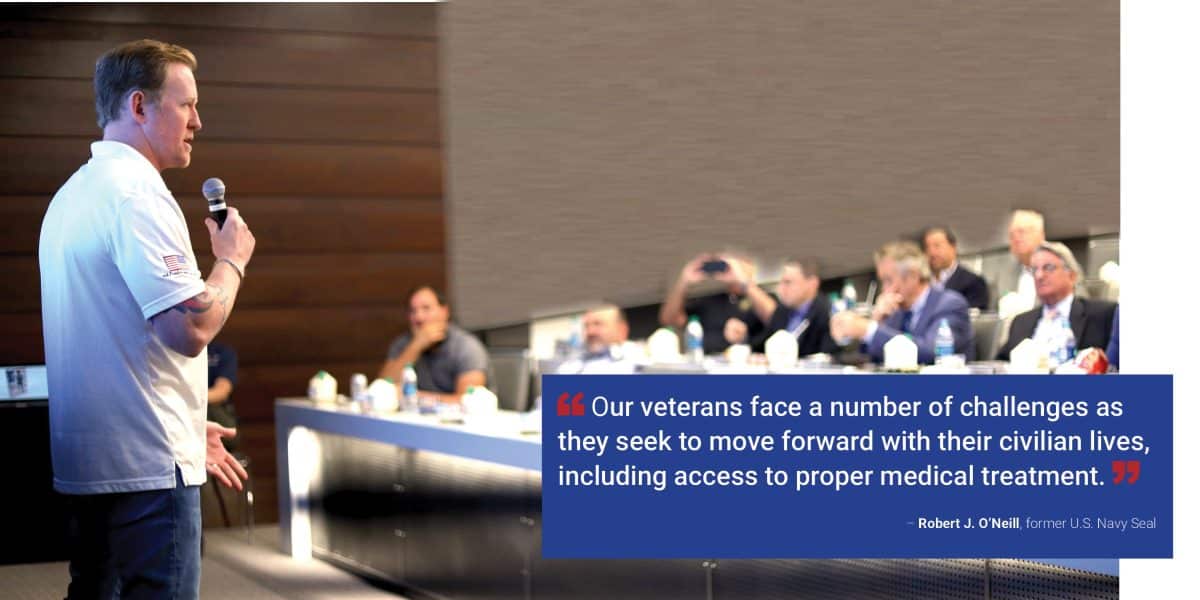 We've fortified our efforts to help America's veterans
This month, with help from some high-profile friends, Miracle Flights announced plans to expand our efforts to serve veterans who need specialty care far from home.
Former SEAL Team Six leader Robert O'Neill helped us make the announcement at UFC Performance Institute in Las Vegas. Later, at a fundraising luncheon co-sponsored by Vegas Golden Knights President Kerry Bubolz, Rob spoke to a group of 70, sharing gripping stories and life lessons from his book The Operator: Firing the Shots That Killed Osama bin Laden and My Years as a SEAL Team Warrior.
Rob is a longtime friend of Miracle Flights, and our conversations with him over time have helped illuminate just how much more needs to be done for those who have served in our armed forces. While we've flown dozens of veterans and their family members in our 35 years, we hope to fly hundreds more in the very near future.
So we'll increase our outreach efforts to make sure current and former military personnel know about our services, and we'll ensure that issues common among veterans, including mental health disorders and traumatic brain injury, are included on our list of covered services.
Will you help support our veterans initiative?
You can double your impact by making a gift today.
The Carl C. Anderson Senior and Marie Jo Anderson Charitable Foundation will match any amount you give this month so we can serve twice as many veterans, kids and others who need help getting the care they need. Please pitch in!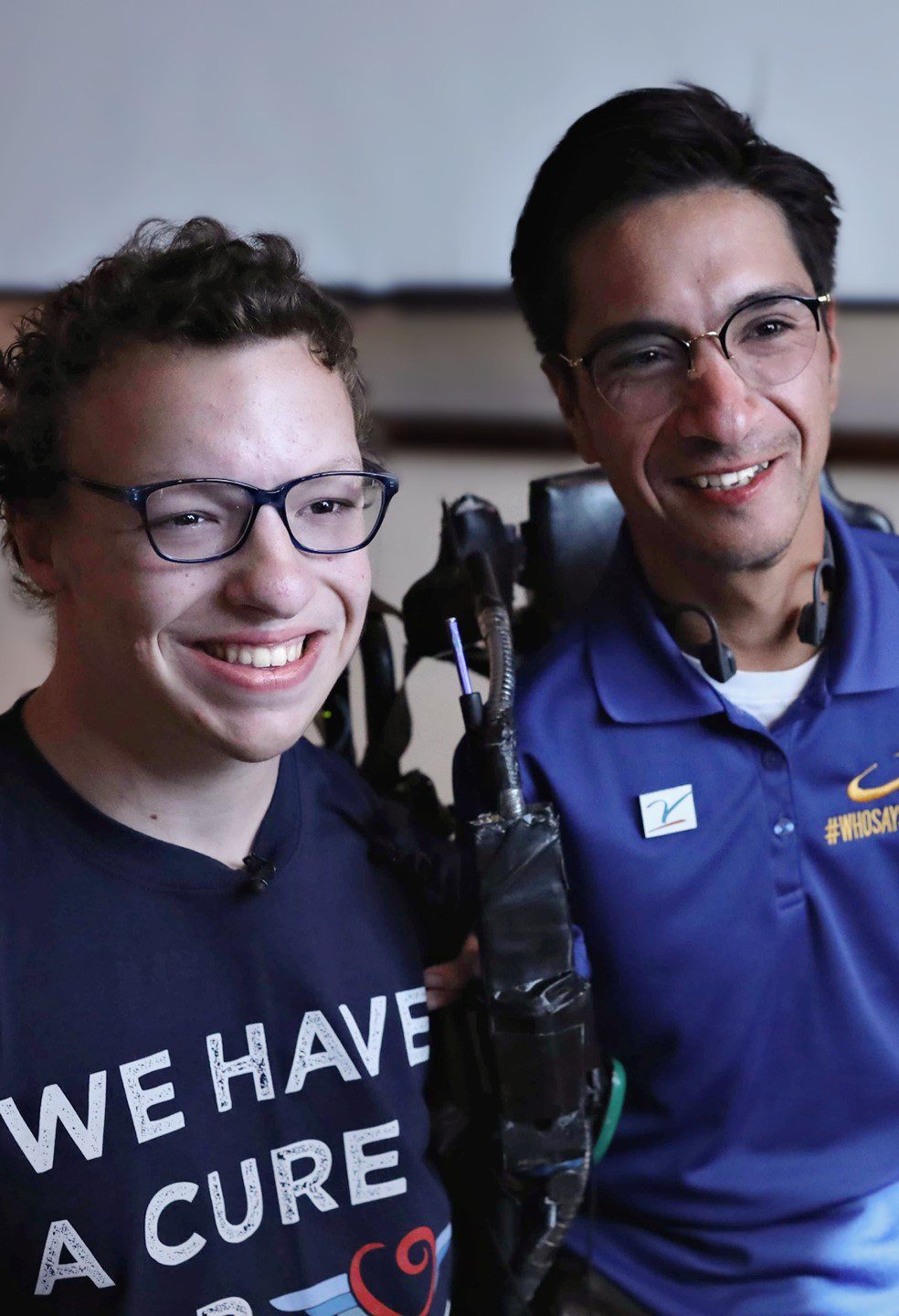 An inspiring visit from Coach Mendez
Coach Rob Mendez, who won the Jimmy V Award for Perseverance at this year's ESPY Awards, visited Las Vegas last month for the sole purpose of meeting 15-year-old Michael Perrino, a Miracle Flights recipient from Mashpee, Mass. Michael, who is also in a wheelchair, has always wanted to be a head coach when he grows up. So Coach Mendez, Michael's longtime hero, flew in to offer encouragement in person. After their chat, the two played the new Madden NFL 20 video game, with Mendez coaching his elated student.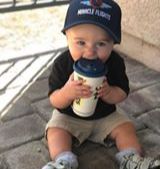 Dutch Bros brew a robust donation
Our friends at the Las Vegas-area Dutch Bros coffee houses celebrated National Coffee Day by giving us $1 for every drink sold that day. With your support, they raised $9,280 for our life-changing programs. It was their largest impact yet on our local communities! Thank you, Dutch Bros!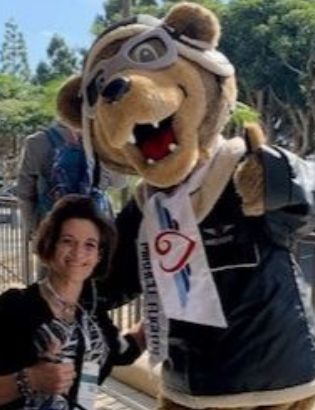 Hitting the road to build awareness
The Miracle Flights team, including our mascot Miles, visited sunny San Diego for the Global Genes RARE Patient Advocacy Summit — the largest gathering of rare disease patients, caregivers, thought leaders and other stakeholders in the world. Our outreach team pulled out all the stops to help make attendees aware of our services. Thanks to all of you who stopped by to say hi!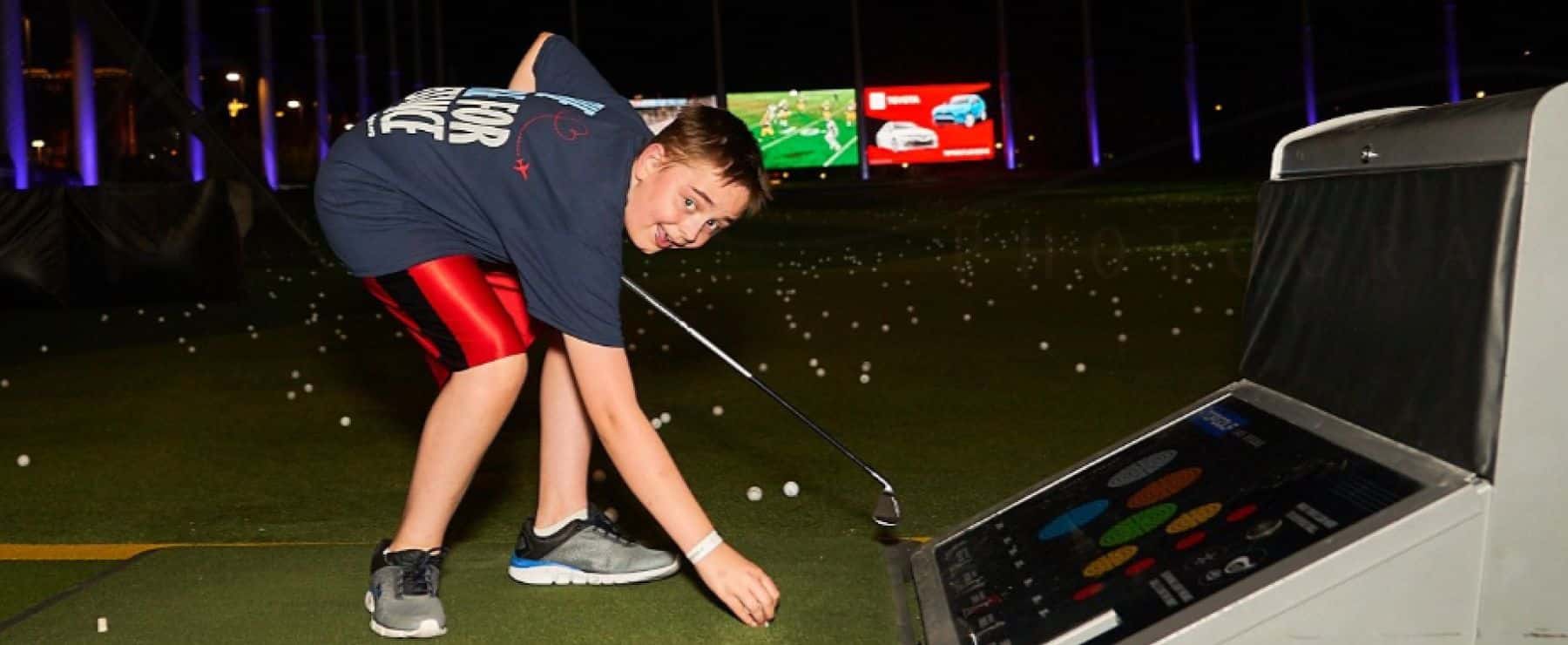 You helped make Swings for Wings an over-the-top success!
Thanks to the hard work of our volunteers, sponsors and special guests, this year's Swings for Wings fundraiser was our most successful yet. More than 200 supporters joined us to help raise $65,000 for our life-changing flight programs. Red carpet guests included NFL Hall of Famer Tim Brown, Murray the Magician, Anthony Cools and the casts of Thunder from Down Under, Fantasy and The Australian Bee Gees. But our biggest VIPs were the Miracle Flights families in attendance, including the Perrinos from Massachusetts. Their son, Michael, served as an inspiring patient ambassador at the event and at several media appearances throughout the week. Special shout outs to our presenting sponsor, Christiansen Law Offices; our Navigator Award winner, Speedway Children's Charities; and all the Las Vegas mascots who turned our event into a dance party!
Would you like to help us stage future successes like Swings for Wings?
Click here to become a volunteer.